A CharmListView displays a vertical list of items from which the user may select, while new items are inserted as headers, as a result of applying over the underlying model a
header function
. Headers can be seen as the keys in a sorted map, that once defined are used to classify the items. For every category, the first item is duplicated and marked as header. Different formatting and sorting options can be applied to the
header
items so they can be distinguised from the
standard
items. By default the header for the top most visible item is displayed
floating
on top of the list, and it is replaced with the next one when the list is scrolled with a slide out effect. The control uses internally a HeadersList class: an
ObservableList
that wraps a SortedList and the headers created by the header function.
Populating a CharmListView
A simple example of how to create and populate a CharmListView of names (Strings) ordered and classified by their number of letters is shown here:

 
 ObservableList<String> names = FXCollections.observableArrayList(
          "Julia", "Ian", "Sue", "Matthew", "Hannah", "Stephan", "Denise");
 
 CharmListView<String, Integer> charmListView = new CharmListView<>(names);
 charmListView.setHeadersFunction(String::length);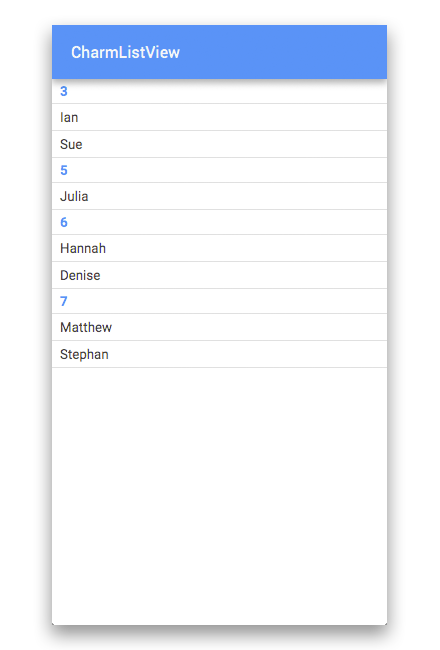 Another feasible approach for setting the items is to simply call:

 
 ObservableList<T> content = ...
 charmListView.setItems(content);
 
The elements of the CharmListView are contained within the items ObservableList. This ObservableList is automatically observed by the CharmListView, such that any changes that occur inside the ObservableList will be automatically shown in the CharmListView itself and, consequently, headers will be updated too.
Formatting the Headers of a CharmListView
Following with the previous example, now a cell factory for the headers will be provided:

  charmListView.setHeaderCellFactory( p->new ListCellImpl<String>(){
       @Override protected void updateItem(String item, boolean empty) {
          super.updateItem(item, empty);
          if(item!=null && !empty){
              setText("Length: " + Integer.toString(item.length()));
              setGraphic(null);
          } else {
              setText(null);
              setGraphic(null);
           }
       }
  });
 
The same result could be achieved by providing a
StringConverter
to the function:

  charmListView.setConverter(new StringConverter <Integer>() {
      @Override public String toString(Integer object) {
          return "Length: " + Integer.toString(object);
      }
  });
 
and calling
toString
on the header cell factory
updateItem
:

 
  setText(charmListView.toString(item));
 
Sorting headers and items
There are two type of comparators that can be added to a CharmListView to sort the items:
comparatorProperty()
for the standard items, and
headersComparatorProperty()
for the header items. For instance, this comparator will reverse the natural order for the cells within headers:

  charmListView.setComparator((s1,s2)->s2.compareTo(s1)); 
 
 {"3", "Sue", "Ian", "5", "Julia", "6", "Hannah", "Denise", "7", "Stephan", "Matthew"}
 
If no comparator is provided, the cells will be placed in the same order they were provided. This will reverse the order on the headers, while sorting by natural order on the standard cells:
 
 charmListView.setHeaderComparator((i1,i2)->i2-i1);
 charmListView.setComparator((s1,s2)->s1.compareTo(s2));
 
 {"7", "Matthew", "Stephan", "6", "Denise", "Hannah", "5", "Julia", "3", "Ian", "Sue"}